Sea-surface temperatures (SSTs) over the equatorial Pacific Ocean remained neutral in August 2017 (Figure A) but has turned negative with the Nino3.4 index at -0.4. The 3-month average (Jun to Aug) Nino3.4 value is close to zero (Figure B). Atmospheric conditions, such as trade winds and cloudiness, over the equatorial Pacific have largely remained neutral. From partial SST data in September 2017, the cooling over the equatorial region has continued.
For the tropical Pacific, most models indicate that the SSTs anomalies will continue to cool in the second half of 2017 (Figure C). For this period, latest experts' consensus favour neutral conditions or weak La Niña conditions (Figure D).
Impact of El Niño/La Niña on Southeast Asia
Typically the impact from El Niño for Southeast Asia is drier-than-normal rainfall conditions, especially during the Southwest Monsoon period (June – September), including October (Figure F) and especially over the Maritime Continent. During La Niña events the opposite, i.e. wetter-than-normal conditions, normally occurs. Locally-specific impact differs from place to place and for different seasons.
No two El Niño events or two La Niña events are alike in terms of their impact on the region's rainfall and temperature. Furthermore, the strength of events and the corresponding impact do not always scale. For example, there were years where relatively weaker El Niño/La Niña events induced more significant changes in rainfall than the stronger events.

Figure A: Sea-surface temperature (SST) anomalies for August 2017 with respect to 1981-2010 climatology. Warm shades show regions of relative warming, while cool shades show regions of relative cooling. The tropical Pacific Ocean Nino3.4 region (solid red box, 120°W-170°W and 5°S-5°N) was at neutral levels in August 2017 but is becoming increasingly cooler. Closer to the region, the western Indian Ocean, WTIO (solid black box, 50°E-70°E and 10°S-10°N) was warmer relative to the south-eastern Indian Ocean, SETIO (dotted black box, 90°E-110°E and 10°S-0°N), which made the Indian Ocean Dipole Mode index (WTIO minus SETIO) positive, but still within neutral levels. Data source: ERSSTv4 from NOAA.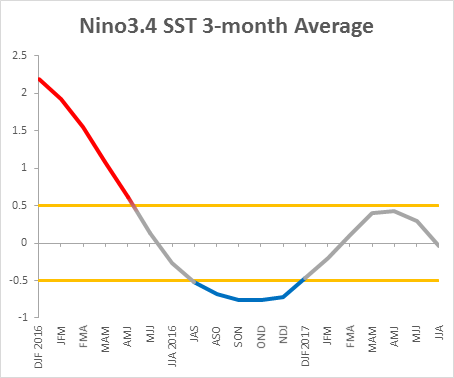 Figure B: The Nino3.4 index using three-month running mean of SST anomalies (against 1981-2010 base period) in the Nino3.4 region bounded by 5°N to 5°S and 170°W to 120°W. Warm anomalies (red line) correspond to El Niño conditions while cold anomalies (blue line) correspond to La Niña conditions; otherwise neutral (grey line). The horizontal axis is labelled with the first letters of the 3-month seasons, e.g. JFM refers to January, February and March seasonal average. Data source: ERSSTv4 from NOAA.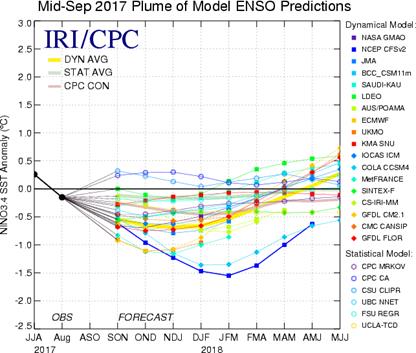 Figure C: Forecasts of Nino3.4 index's strength for second half of 2017 and first half of 2018 from various seasonal prediction models of international climate centres. Values above 0.5°C indicate El Niño conditions, below -0.5°C indicate La Niña conditions, and in between indicate neutral conditions, i.e. neither El Niño nor La Niña. Models predict the Nino3.4 index to remain neutral or at weak La Niña values for the rest of 2017. (image credit: IRI-CPC).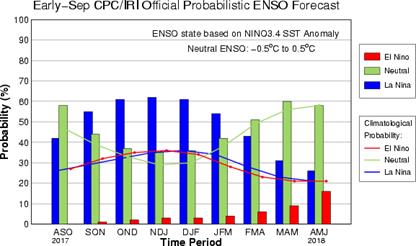 Figure D: Probability of El Niño (red), La Niña (blue) and neutral conditions (green) for 2017. Neutral conditions or (weak) La Niña conditions are favoured over El Niño for the rest of 2017 (image credit: IRI-CPC).
Figure E: Correlation between total monthly rainfall (averaged over 28 Singapore stations) and Nino3.4 index from 1980-2013. It shows statistically significant (red) negative correlations between local rainfall and Nino3.4 in July, September and October, which suggest that warmer temperatures in the Nino3.4 region lead to significantly less rainfall over Singapore and vice versa. In other months, where the correlations are weaker or insignificant, the relationship is not as established.
El Niño/La Niña
For El Niño/La Niña updates, ASMC assesses information provided by the World Meteorological Organization (WMO) and various international climate centres, such as the Climate Prediction Center (CPC) US, the Bureau of Meteorology (BoM) Australia, as well information from the International Research Institute for Climate and Society (IRI) which contains model outputs from various other centres around the world.
Frequently Asked Questions
What is El Niño/La Niña and how do they affect weather in South East Asia?
The El Niño phenomenon is a non-regular occurrence in the tropical pacific region where warmer waters develop over the Eastern Tropical Pacific Ocean along the coast of South America. In South East Asia, this brings drier weather and increases the risk of forest fires and smoke haze. The La Niña phenomenon is the reverse of the El Niño where cooler waters develop over the Eastern Tropical Pacific Ocean along the coast of South America.
In South East Asia, higher than normal rainfall tends to occur during a La Niña episode which may result in an increased occurrence of floods.
The correlation between El Niño/La Niña and its associated weather impacts on South East Asia differ from one place to another and for different seasons.
The image above shows the precipitation anomalies averaged over the El Niño and La Niña years. For instance, the impact of El Niño is typically stronger over the southern and eastern part of South East Asia during the months of Jun – Oct.