Review of Regional Weather and Smoke Haze for Nov 2014
1.   Review of Regional Weather Conditions in November 2014
1.1    Inter-Monsoon conditions prevailed over the region for most parts of November 2014 before giving way to Northeast Monsoon conditions in late November 2014. The generally light and variable low level winds strengthened to blow predominantly from the northeast or northwest with the onset of the Northeast Monsoon season.
1.2    In November 2014, two tropical cyclones – 'Nuri' and 'Sinlaku' affected the equatorial region. 'Nuri' developed to the east-southeast of Guam in late October 2014 and intensified into Super Typhoon strength in early November 2014 before weakening and dissipating over the north-eastern Pacific Ocean on 6 November 2014. Tropical Storm 'Sinlaku' developed off the east coast of the Philippines in late November 2014. It intensified as it track northwestwards across the Philippines, and into over the South China Sea before dissipating as it made landfall over the south central coast of Vietnam on 30 November. 'Sinlaku' brought heavy rains and strong winds to areas along its path.
1.3    As the region transitioned from the Inter-Monsoon to the Northeast Monsoon season, increased rainfall was experienced in the southern ASEAN region. In the second half of November 2014, increased convective activity in the South China Sea brought heavy rainfall to the eastern coastal states of Peninsular Malaysia which led to floods in Kelantan and Terengganu. For the northern ASEAN region, there was a decrease in rainfall and drier and cooler conditions were experienced.
1.4    In November 2014, many parts of the southern ASEAN region such as Sumatra and Peninsular Malaysia received more than 100% of normal rainfall. Less than 75% of normal rainfall was received in most parts of the northern ASEAN region while southern Philippines received more than 125% of normal rainfall. The regional rainfall distribution for November 2014 is shown in Fig. 1A.
2.   Review of Land/Forest Fires and Smoke Haze Situation
2.1    Hotspot activities in the northern ASEAN region remained mostly subdued in November 2014. However, the transition to the drier weather conditions at the end of the month led to sporadic surges in hotspot activities observed in parts of Cambodia, Thailand and Vietnam.
2.2    In the southern ASEAN region, a brief period of drier weather in the first week of November 2014 led to the emergence of scattered hotspot activities in southern Sumatra and Kalimantan. Moderate smoke haze was also observed to emanate from these hotspots which led to the deterioration of air quality and visibility in parts of southern Sumatra. From the second week of November 2014, increased showers helped to subdue the hotspot activities in southern Sumatra and Kalimantan. Satellite images depicting some of the hotspot activities in the ASEAN region in November 2014 are shown in Figs. 2A to 2E.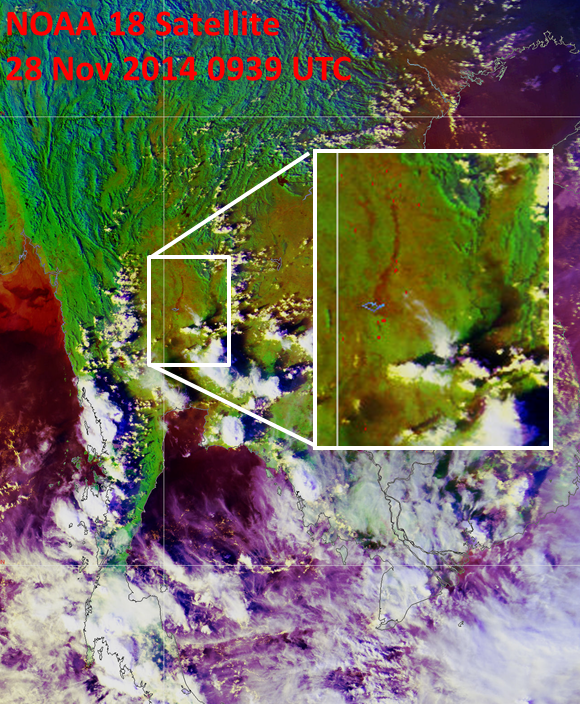 2.3    The hotspot charts for December 2014 for
Cambodia, Myanmar, Thailand, Lao PDR and Vietnam;
Sumatra, Borneo and Peninsular Malaysia;
3.   Status of El Niño/La Niña
3.1    The past two months have seen steady warming of the tropical Pacific Ocean resulting in the sea-surface temperatures (SST) reaching weak El Niño levels. However the atmosphere above it has yet to respond fully, with only some atmospheric indicators (e.g. large-scale change in upper and low level winds) reaching El Niño levels. As other indicators of atmospheric response to El Niño such as cloudiness and rainfall are still within neutral thresholds, the El Niño Southern Oscillation (ENSO) is not yet considered to be fully established.
3.2    Climate model outlook and expert assessment suggest further intensification of conditions likely. As such, El Niño is predicted to become fully established before the end of February 2015 with about 70% chance of a weak El Niño event occurring.
3.3    Typically the impact from El Niño for the Southeast Asia region is drier than average rainfall conditions, especially for the southern and eastern parts during June to October. More locally-specific impact differs from place to place and for different seasons.
3.4    As we are within the Northeast Monsoon season (Dec – Feb), where El Niño is not known to have much impact on the western part of the Maritime Continent, the possibility of a weak El Niño developing in the next one to two months do not pose significant risks of extended periods of drier and warmer conditions in this part of Southeast Asia.